Anything But the Status Quo: Bruno is Now Open!
Feast on sustainable seafood and more at this new restaurant in Richmond, BC
The wait is over! Bruno, Versante Hotel's highly anticipated new dining venue, is now open for locals and hotel guests alike to savour seasonally-influenced cuisine for breakfast, lunch and dinner.
Executive Chef Will Lew invites guests on an ever-evolving culinary journey with a menu of high-impact yet approachable dishes crafted with the best ingredients the Pacific Northwest has to offer. Take the show-stopping Truffle Lavender Duck, for instance. This signature dish features duck from the Fraser Valley served in a wicker basket on a bed of  farm-fresh lavender from Acre Lavande on Cortes Island, transporting diners to a whimsical picnic in a lavender field.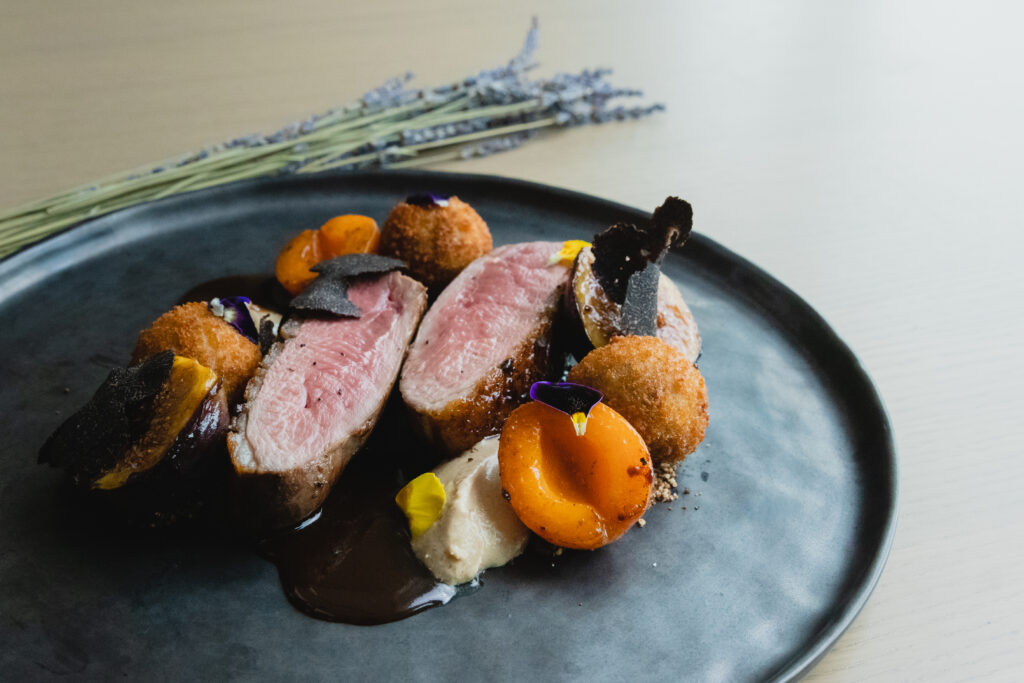 Seafood lovers are sure to fawn over Bruno's selection of local catches. The sumptuous Oyster Shellfish Caviar Cart steals the spotlight with an impressive spread of local oysters, caviar, mussels, clams, scallops, and Dungeness crab served tableside with housemade accompaniments. An array of small plates and family-style dishes are on offer for those in the mood to nibble or share. Did someone say Smoked Salmon Flatbread?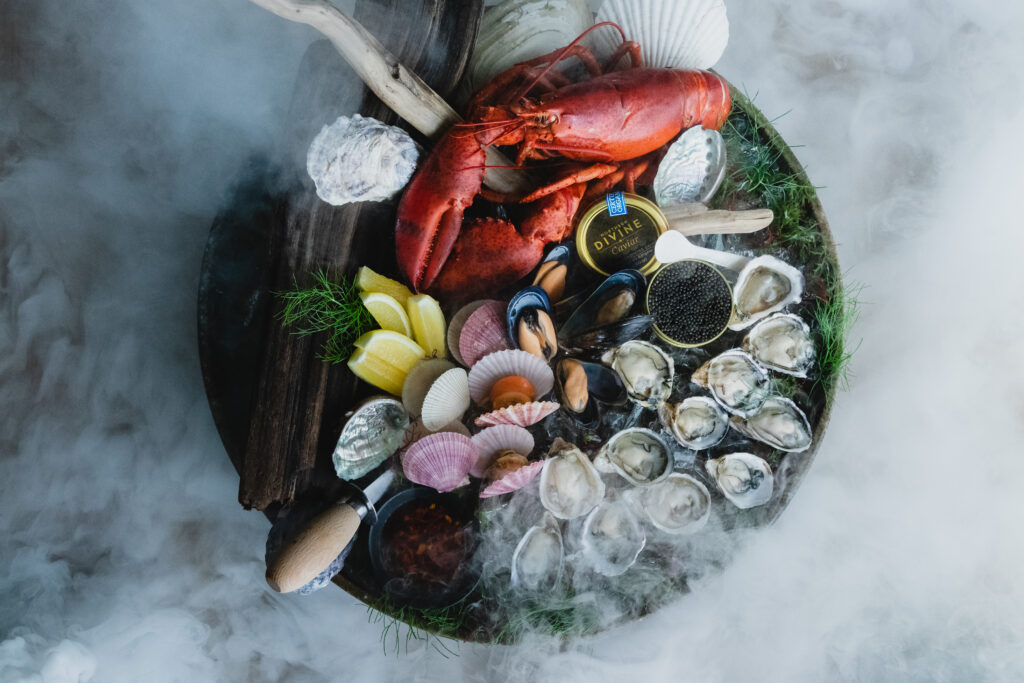 Don't forget to save room for dessert! End off on a sweet note with housemade Rustic Tiramisu, Stone Fruit Pavlova and the signature Lavender Honey Soft Serve with pistachio brittle. View the dessert menu here.
How better to complement the experience than with a destination-inspired cocktail? Bruno's signature sip, the "An Torran," infuses Botanist Gin, butterfly pea flower, fresh lemon, farm-fresh lavender, blueberries, prosecco, mountain berry tea and local honey in a concoction that is as aesthetically pleasing as it is delicious. If cocktails aren't your thing, there's a distinguished wine list with large-format bottles and a selection of local craft beer.
Bruno is an ideal destination for jet-setters, locals and families to reconnect and celebrate. The 6,000 sq ft dining room features an 18-seat community table, intimate seating and a private dining room for 10, while the adjoining 30-seat Versante Bar provides a convenient excuse to tack on a nightcap and keep the good times rolling.
"Every element of Bruno was chosen with the idea of connection in mind," says General Manager Brad Stanton. "Our inviting space is designed for guests to create new memories together, and our food plating style encourages connection through the celebration of great food and company."
Start your day on a decadent note with nourishing breakfast served daily. Take in a line-up of sweet and savoury must-haves like Crab & Eggs, Burrata Avocado Toast, and Passion Fruit Coconut French Toast.
Who's hungry? Check out Bruno in Daily Hive Vancouver for more delicious details, and make a reservation here. For giveaways, promotions and features, follow Bruno on Instagram. Want to be the first to know about what's cooking at Versante Hotel? Subscribe to our e-newsletter and be sure to check back to our Taste page for updates to our growing food & beverage program.
Bruno Hours of Operation:
Mon – Fri: 6:30am – 10am
Sat & Sun: 7am – 10:30am
Mon – Fri: 11:30am – 2:30pm
Daily: 5pm – 10pm