7 Ways to Escape the Chaos of Travel at an Airport Hotel
When we think of airport hotels, we often think of a cheap place to crash for a night before or after a flight—a place to spend as little time as possible.
But airport hotels aren't what they used to be. Think of the stylish and retro TWA Hotel at JFK Airport, opened in 2019 in the iconic former TWA flight center designed by Eero Saarinen. Or Mövenpick Hotel at Bahrain International Airport, a five-star resort with a lagoon, infinity pool and hammam spa.
Rather than add to the drudgery of travel, a good airport hotel can provide a much-needed refuge from the chaos. But not all are created equal. Here are seven compelling reasons to book an airport hotel and tips for making the most of your stay.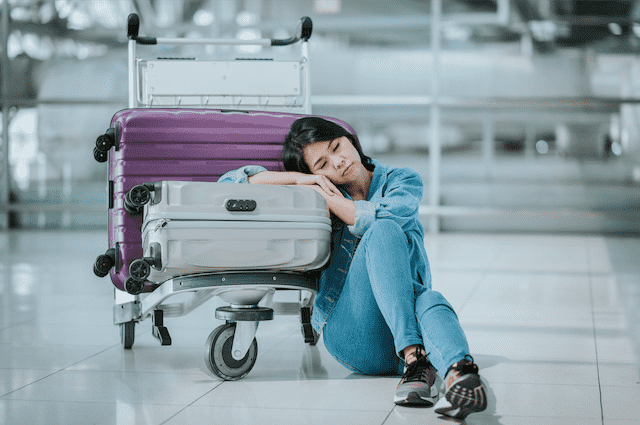 1. Avoid Pre-trip Stress
Always feel anxious before a trip? You're not alone. By booking an airport hotel for a night or two prior to departure, you can avoid the stress of that 4:00 am alarm, the mad rush to get out the door and the dread of hitting bad traffic and missing your flight.
Instead, you can sleep in, enjoy a leisurely breakfast and maybe a swim or workout, and then be whisked to the airport in the hotel's complimentary shuttle. You'll arrive at the gate the picture of calm and serenity.
Tip: Not all "airport hotels" are near the airport. To avoid an unpleasant surprise, find out how close the hotel is to the airport and if complimentary transfers are provided. If there's a shuttle, ask how often it runs and how many stops it makes.
2. Recharge After Your Flight
Let's be honest, we don't always look or feel our best after a long flight. Rather than face more grueling travel, why not check in to a nearby hotel to rest up and freshen up before continuing on your journey?
Tip: Before booking, confirm that the hotel is well soundproofed and far enough away from the airport that your bed won't vibrate every time a plane lands. Like well-behaved children, airplanes should be seen and not heard.
3. Turn a Layover into a Stayover
If you have an extended layover or your flight was canceled, instead of suffering endless hours in a noisy, chaotic airport go to a nearby hotel for a nice meal. Even better, check in to a room, order room service and binge on a Netflix mystery series.
Tip. On the day of your flight, order a meal to go from the hotel and save yourself from dodgy airport food. The passengers around you will beside themselves with envy.
4. Save & Splurge
Airport hotels tend to be substantially less expensive than downtown hotels, and many have fast and convenient transportation into the city. Why not use some of that savings to splurge on an upscale hotel? (As if you needed a reason.)
Tip: Airport hotels can range from fabulous to kind of sketchy, and a lot of them are generic, big-brand properties. Be sure to check out reviews to find the right fit for you.
5. Lean In
Rather than write off your airport stay as an unpleasant but necessary add-on to your trip, turn it into a memorable experience. Treat yourself to a nice meal, a craft cocktail and maybe even a massage or facial. Sometimes those stolen moments are the best parts of a trip.
Tip. Before you book, check out the hotel's amenities and restaurant offerings. Some airport hotels are quite isolated, and you don't want to be stranded with nothing to do and substandard food. You'll get enough of that on your flight!
6. Hold a Meeting
Heading to town for a meeting? Why waste time and expense traveling downtown when you can convene at an airport hotel? You and your colleagues can fly or drive in, hold epically productive meetings, and then celebrate over a lavish meal with all the money you saved. You'll be back in your own bed in no time.
Tip. Ask about meeting facilities in advance and ensure there's ample parking, reliable Wi-Fi, and access to the catering and audiovisual services you'll need.
7. Quarantine in Comfort
While the pandemic lasts, an airport hotel is an ideal place to quarantine or wait for test results before continuing on to your destination. Alert the hotel in advance to ensure staff can provide the services you require and have proper safety protocols in place.
Tip: Choose your hotel carefully. If you're stuck in your room for up to 14 days, you'll want a spotless room, a comfortable bed, reliable Wi-Fi, a big TV and quality room service. Oh, and a minibar.
David Curell
General Manager, Versante Hotel
About Versante Hotel
Just minutes from the airport but far from your typical airport hotel, Versante Hotel offers complimentary luxury car service to Vancouver International Airport (YVR), free Wi-Fi, 55" TV, rooftop pool, 24-hour room service, and fine Mediterranean cuisine at Bruno restaurant. For more info visit our Offers page.