Why It's Better at a Boutique Hotel
An Interview with David Curell, General Manager, Versante Hotel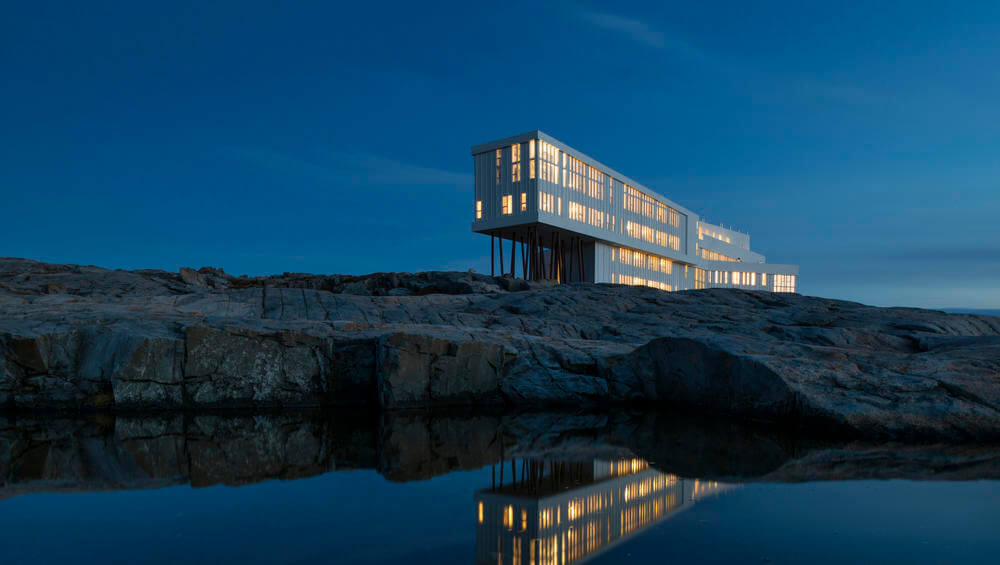 The stunning Fogo Island Inn in Newfoundland
Having managed some of the most iconic boutique hotels in North America, David Curell, Versante Hotel's general manager, comes with a wealth of knowledge and experience. Here we ask him how he got his start and what he looks for in a boutique hotel.
How did your career in hotels begin?
I was 13 years old when I started working at the 90-room Stetson Village Motel in Kelowna, BC. Yes, it was child labour, but my parents were the owners so I had no choice. And my job wasn't cushy by any means. As a jack of all trades, I took care of the grounds, landscaping, the pool and jacuzzi. I cleaned rooms, did the laundry, delivered luggage and showed rooms to prospective guests.
Oh, and I learned the dangers of working (and staying) at a highway motel when a truck veered off the highway one night and crashed into the room of a honeymoon couple. Fortunately, no one was injured!
How did this experience prepare you for a future managing boutique hotels?
In addition to learning most aspects of the hotel operation, I also learned the importance of teamwork. My interactions with guests ignited a passion for hospitality. I discovered that no two guests had the same needs, and when I asked questions and took a genuine interest in them, they felt more welcome and valued.
Later, as I worked up the ladder at other hotels, I was more empathetic to the challenges my team members faced in all departments because I had worked in their shoes. And when I started managing boutique hotels, where you don't have a cast of thousands, I was able pitch in where help was needed.
Tell us about some of the properties you've managed.
After I moved to Vancouver, I joined the Westin Bayshore as a restaurant host and then transferred to the front desk. Later, I moved to the Pan Pacific Vancouver, a 500-room, AAA Five-Diamond property that hosted royalty, movie stars and heads of state. I stayed there for 13 years and it was a formative time for me. I learned from the best and have carried those skills with me ever since.
In 2002, I opened Opus Hotel as general manager. It was my first GM job, my first opening, and my first boutique hotel. I was quickly hooked. I loved being able to cultivate a team from scratch. The hotel quickly earned a reputation for exemplary service, for cutting-edge marketing, and as a hotspot for celebrity guests.
From Opus I moved to San Francisco to open Hotel Vitale (now 1 Hotel), part of Joie de Vivre Hotels. Of all the hotels I've opened, it's the only one that opened on time! Since then, I've held GM positions at the historic Clift Hotel in San Francisco, Viceroy Hotel in Santa Monica and properties in Palm Springs, Montreal and Mexico.
What was your best experience as a hotel manager?
There are so many highlights, but probably my best experience was at Fogo Island Inn, a stunning 29-room property on a small island in Newfoundland where iceberg watching is an annual pastime. The inn is world-famous as a social enterprise. Its founder, Zita Cobb, is a local resident who comes from a long line of fishermen. After leaving the island to study economics and work in the software industry, she returned to help rehabilitate its struggling economy due to the declining fishing industry.
The inn's commitment to local, ethical and sustainable purchasing practices is evident in details like the patchwork quilts in every room handmade by locals, furniture built by local craftsmen, and its support of the island's artists-in-residence program. When booking a room, guests are provided a breakdown of the "economic nutrition" of a room rate so they know exactly where their money goes. The inn has helped revitalize the island's economy, and it shows how far a hotel can go to support the local community.
What are some of your favourite boutique hotels?
We sense a theme here. Are you missing the south?
Oh yes. I love the sun and the beach. It's been a long lockdown.
What do you think are the most important things that comprise a boutique hotel?
For me, the boutique experience is about attentive and personalized service, contemporary but comfortable design, and lively food and beverage spaces. As an alternative to a large, chain hotels, a boutique hotel should reflect the local area, pay careful attention to detail, and offer thoughtful surprises. The design, decor, lighting and music should all be styled and curated to create a cohesive ambience that inspires and excites the senses.
What do you think makes Versante Hotel special in the boutique category?
There are so many things that make the property stand out. First of all, the design: vibrant colours, lots of natural light, iconic furnishings and contemporary art. Then there's our room product. Of 100 rooms, we offer 11 layouts and five design palettes. Guests will love our unique, quality amenities that provide exceptional comfort such as Centium Satin bed linens, plush bath towels and robes, personal care products from Red Flower, and Dyson Supersonic hair dryers.
Versante Hotel also features an outdoor salt-water pool, Peloton bikes, and Mirror workout technology—a first in Canada. Cuisine offerings include Mediterranean, Japanese and West Coast all under one roof, as well as a vibrant lobby lounge, Versante Bar. Another distinct feature is our View smart windows, which optimize daylight and are known to improve sleep, productivity and cognitive ability.
Finally, Versante Hotel is part of the next generation of hotels opening during the pandemic. Safety is built into our DNA, as is our commitment to supporting important issues like inclusion, social justice and sustainability. We're excited about surprising and delighting our guests with such a unique boutique hotel in Richmond BC.